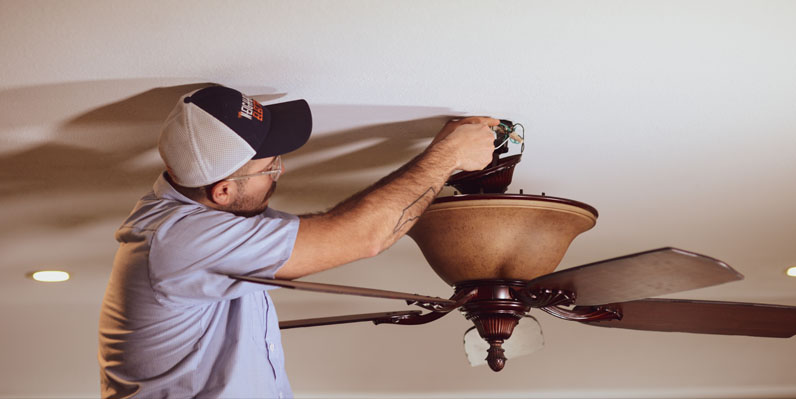 Services
We make installing ceiling fans easy!
Ceiling fans offer a great alternative to expensive energy bills and look great in bedrooms and living rooms. In the summer, they provide a cool breeze, and in winter, they help utilize warm air trapped in the ceiling by moving it downward. We think that every room in your Hendersonville, North Carolina home needs a ceiling fan, from every bedroom to your living room, theater room, home office, and any other room where you spend a lot of time.
When installing a ceiling fan, it is important to make sure you have the proper support box in place and install the fan according to its specifications. Ceiling fans are major appliances hanging over your head, so you don't want to take any chances on the installation. At The Neighborhood Electrician, we have installed hundreds of ceiling fans and know how to do it right. Our technicians always inspect the existing box before installing a ceiling fan, and we never cut corners by installing a plastic or Non-UL listed box.
Our technicians can install a ceiling fan anywhere in your house, even if there is no fan or light in your existing ceiling. We will install a new box, fish in a new line, and install the fan. If you already have a fan that operates on a pull chain, we can install new independent switches for the fan and light.
We know that before you hire someone to do ceiling fan installation, you want to know how much it will cost. On top of that, you want to make sure that once the installation is done, you won't pay more than the original quote. Thanks to our upfront pricing structure, what we quote you when you ask us about installing a fan (or multiple fans) in your home will be the amount that we charge you in the end. This is just one of many, many things we do to ensure your complete satisfaction with our ceiling fan installation process.
Why else are we your top option for ceiling fan installation in Hendersonville? For starters, we offer prompt service – we will get your ceiling fan installation project scheduled and taken care of shortly after you turn to us for a quote. We also offer a 3-year warranty on our workmanship. If something related to the initial installation goes wrong, just let us know, and we'll come and take care of it without any questions.
Installing ceiling fans in your home is a great way to cut back on energy costs while staying comfortable in your home. Schedule your ceiling fan installation appointment today by getting in touch with us.
---
At The Neighborhood Electrician, we provide ceiling fan installation services for customers in Asheville, Hendersonville, Arden, and Buncombe County, North Carolina.