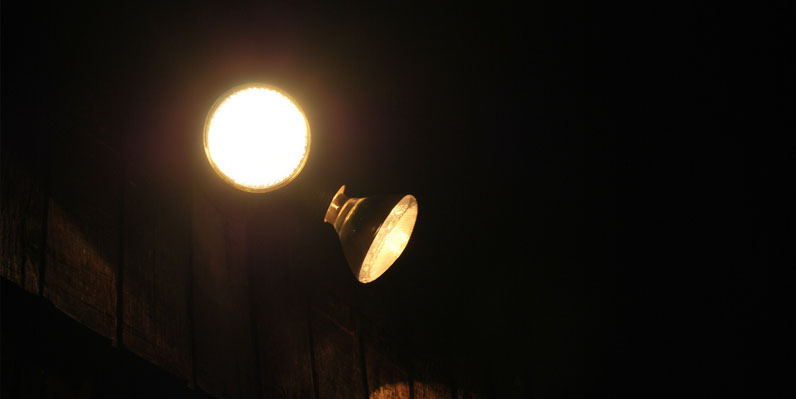 Services
Keep your home secure with motion flood lights.
Proper flood lighting enhances your daily quality of life and the value and aesthetic appeal of your home. It is also a courtesy to and safety feature for your guests that helps protect you from someone getting needlessly hurt on your property. Good lighting discourages criminals. Why "invite" any "uninvited guests" when you could dissuade them with proper outdoor lighting? Our technicians often install security lighting after a senseless act of vandalism or a frightening home invasion. If you have bad lighting, don't delay on getting new lights.
We make getting motion flood lights on your Asheville, North Carolina property simple. All you have to do is give us a call! At The Neighborhood Electrician, we are an experienced electrical services company that offers upfront pricing and exceptional customer service. We also back up all of our work with a 3-year warranty, motion flood light installation projects included. For all these reasons and many more, there's no reason not to choose us to handle the installation of your flood lights.
Our technicians recommend installing flood lights at pathways, gates, and parking areas. Motion lights in these areas will provide light right where you need it and prevent you or your guest from being injured. For security purposes, we recommend placing lights near rear doors and in your backyard, side yard, and areas around your home that are not regularly watched or easily observable.
We will come up with a plan for motion flood light installation that works for your particular yard and vulnerable areas of your outdoor living space. We will then take care of the motion flood light installation process from start to finish – you won't have to lift a finger the entire time. Once we are done, you can enjoy a front or backyard that is more secure and shines light on any unwanted visitors, deterring them from going any further.
Honest and Reliable – Trust Us to Get the Job Done !
As a fully licensed electrical company, we guarantee your complete satisfaction with our workmanship when we come and install motion flood lights at your home. As part of the process, we encourage your questions and will give you as much information as we can as we plan out your project. We're upfront with our pricing and we won't charge you more than we quoted in the beginning.
Make your yard more secure by having us install motion flood lights! Contact us today to set up a consultation and find out more about what we offer.
---
At The Neighborhood Electrician, we provide motion flood light installation services for customers in Asheville, Hendersonville, Arden, and Buncombe County, North Carolina.