Turn to us for the best in electrical installation services.
At The Neighborhood Electrician, we believe that all our customers deserve to have a home electrical system that provides a multitude of benefits, including peace of mind. We highly encourage you to leave any electrical installation for an experienced master, licensed electrician. There are too many risk factors involved to try to handle it as a DIY project or put it into the hands of an inexperienced, unlicensed individual.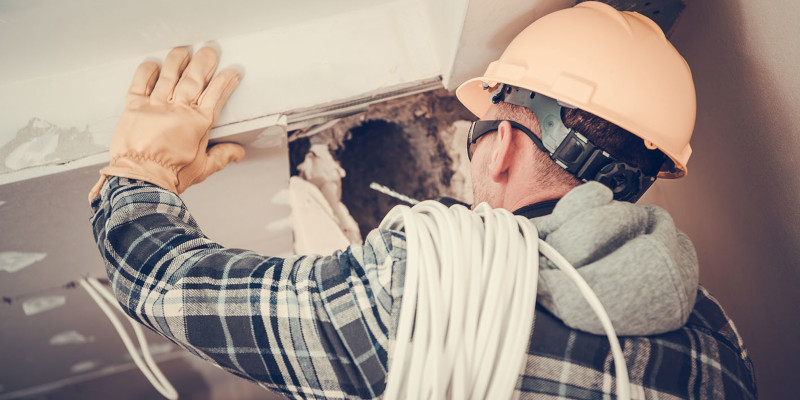 As full-service, fully insured electricians serving the Asheville, North Carolina area, we offer a wide variety of electrical installation services.
The Neighborhood Electrician- Solving Electrical Problems!
Here is a partial list of the tasks that we can handle for you:
Electrical Panel Installation– If your circuit panel is too small to add more circuits, needs to be replaced, or you need to upgrade from a fuse box system to a circuit breaker panel system, reach out to us to get an upfront quote.
Ceiling Fan Installation– In many cases, installing a fan is relatively simple. You can trust us to do it properly and safely. If you want one installed where there is not one now or you are concerned about making proper connections, it is best to reach out to us to install it for you.
Surge Protection Installation– Today's appliances and electronics are far more susceptible to damage from small surges that you might not even notice. Protecting your entire home with surge protection can save you thousands of dollars!
Motion Flood Light Installation– Motion lights are hands-down one of the most effective crime deterrents there is. Criminals prefer darkness to hide their nefarious actions.
Electrical Outlet Installation– Using a lot of extension cords or power strips? Neither of those is intended for long-term use, so call on us to put outlets right where you need them.
Recessed Light Installation– Let us turn a dark, unwelcoming home or room into one bathed in light!
Honest and Reliable – Trust Us to Get the Job Done !
Again, this is only a partial list of the electrical installation projects that we can help you with. Do not hesitate to reach out to us with whatever you have in mind that will make your home safer and more comfortable.
---
At The Neighborhood Electrician, we provide electrical installation services for customers in Asheville, Hendersonville, Arden, and Buncombe County, North Carolina.
Similar Services We Offer: