Our service area puts professional residential electrician services at your fingertips.
There are many different electrical services that we offer here at The Neighborhood Electrician as trusted, licensed, and insured residential electricians. In fact, you would be hard-pressed to need something that we couldn't take care of for you. We serve Hendersonville, North Carolina and the rest of Buncombe County, as well as Henderson County, with electrical installation, electrical repair, electrical inspections, and electrical upgrades.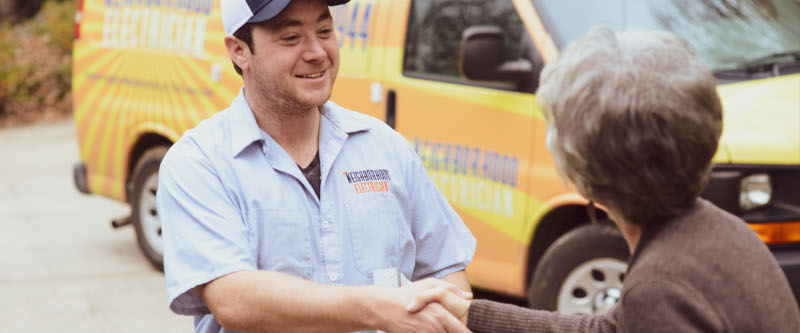 Electrical Installation– Our installation services as a residential electrician include, but are not limited to, electrical panel installation, ceiling fan installation, surge protection installation, motion flood light installation, electrical outlet installation, and recessed light installation.
Electrical Repair– If you have circuit breakers that keep tripping or fuses that burn out, or any other electrical problems and troubleshooting on your part hasn't uncovered the cause, we recommend calling us as soon as possible to have the issue diagnosed and resolved.
Electrical Inspection– We recommend that you have your home's electrical system inspected regularly on a schedule based on the age of your home. An older home should be checked annually, but a newer one can go with every two to three years. We also recommend you schedule an inspection of any property you have under contract to purchase so problems can be resolved before you close.
Electrical Upgrades- If you have an older home, you might want to consider new home wiring or upgrading a fuse box to a circuit breaker panel. Even a newer home can benefit from certain upgrades, such as LED lighting upgrades or installing surge protection.
Reach out today if you need any of these residential electrician services or if you have any questions about the services we offer.
---
At The Neighborhood Electrician, our residential electricians proudly serve customers in Asheville, Hendersonville, Arden, and Buncombe County, North Carolina.