Whether you have a large project or a small one, we are happy to serve as your residential electrician in or near Buncombe County.
If you own a home, chances are at some point, you will find yourself in need of a residential electrician. Maybe you will want a new ceiling fan installed or you will need to upgrade your fuse panel or electrical box. You might want to have more electrical outlets installed or to have new recessed lighting as part of a remodel in your home. Whatever the reason you need a residential electrician, you can always count on us here at The Neighborhood Electrician. We serve the area in and near Buncombe County, North Carolina.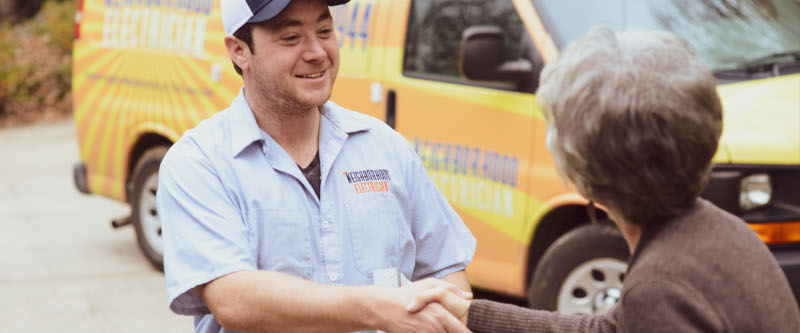 As a fully licensed and insured residential electrician, we provide a range of electrical services, including:
Installations: Beyond what we already mentioned, we can install new light fixtures, place motion flood lights outside your home for security and improve your surge protection.
Repairs: If you have any reason to suspect that you need electrical repair, don't wait to call us. Electrical problems can lead to fires, shocks, injuries and worse.
Inspections: Are you selling your home? Are you buying a new home? Do you just want your electrical system evaluated by a professional? We are happy to perform thorough inspections.
Upgrades: Modern homes contain many more appliances and electrical devices than they once did. We can upgrade your system to accommodate these needs and keep your house in compliance with current codes and regulations.
We are standing by to help you with all your electrical needs. We want to help make your home safer and more comfortable. Call today. We offer upfront pricing and a 3-year warranty on our work.
---
At The Neighborhood Electrician, our residential electricians proudly serve customers in Asheville, Hendersonville, Arden, and Buncombe County, North Carolina.