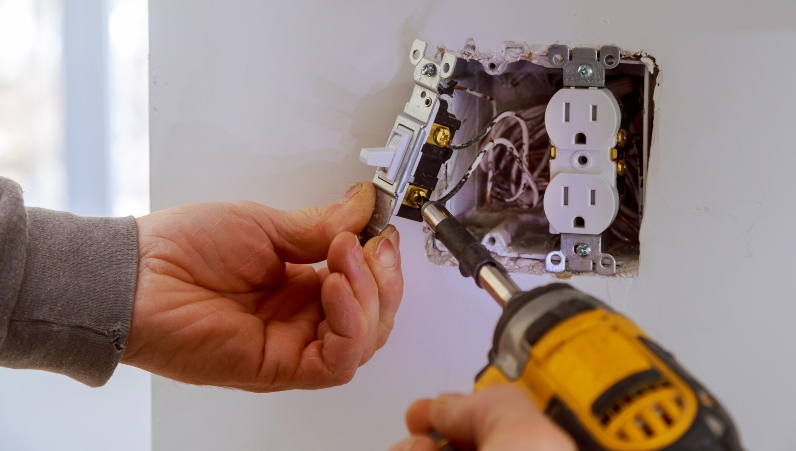 Services
Make sure there are enough outlets in your home.
Do you have enough outlets in your Buncombe County, North Carolina home? Many older homes only have one or two outlets per room, which is not nearly enough to accommodate today's high-tech homeowner. Our technicians can install an electrical outlet anywhere in your home; right where you need it the most. Additionally, our technicians can install additional outlets for flat screen TVs, holiday lights, ironing boards, table lamps, floor lamps, etc.
A two-prong outlet signifies that there is no ground wire and prevents a homeowner from plugging in appliances or electronics that require grounding. In some cases, uninformed persons will replace a two -prong outlet with a three-prong outlet without adding a new ground wire. This creates a major hazard and is potentially dangerous to anyone using that outlet. This is why replacing a two-prong outlet with a three-prong outlet without running a new wire is illegal in North Carolina.
Our talented electricians at The Neighborhood Electrician follow all industry and safety regulations during the electrical outlet installation process. We want you to have enough outlets in every room in your home, but we also want to make sure that when you plug something in, the risk of electrical shock is nonexistent, thanks to proper installation.
Tamper-resistant outlets are designed to prevent injury or death to children by preventing the insertion of any device (pen, paperclip, etc.) into the outlet other than an electrical plug. The new outlet now has a special cover and looks like a regular outlet. Our electrical company only installs tamper-resistant outlets. We will never install an inferior outlet in your home. Check your outlets for the "TR" label to make sure your home is as safe as it can be.
We often recommend tamper-resistant outlets for people with kids, so if you have young children, we suggest replacing all your outlets with these models or making sure any new outlets you add are tamper-resistant. Electrical safety is a big deal to us, and we want to keep every member of your family safe when using electricity.
Whether you have us install tamper-resistant outlets or the standard, three-prong type, our electrical outlet installation services deliver complete quality. We work hard and provide quality workmanship, offering a 3-year warranty on all of our installations. If something ever goes wrong with one of your outlets, give us a call, and we can look into the problem without any hassle on your end.
We also offer an upfront pricing structure, so you know exactly what electrical outlet installation will cost you beforehand. Being upfront with our pricing is just one of the many ways we make customer service a priority. We're proud to serve our local community and want to maintain our reputation for being the reliable, accessible electrician that homeowners want to work with.
When you need more outlets installed in your home, work with us. Contact us today to set up your electrical outlet installation appointment!
---
At The Neighborhood Electrician, we provide electrical outlet installation services for customers in Asheville, Hendersonville, Arden, and Buncombe County, North Carolina.